Deluxe
The IF Deluxe is nothing more than a bunch of pipes welded together to make a bicycle shape. Of course, St. Pauls Cathedral is just a pile of stones, but now I'm sure you get what we mean.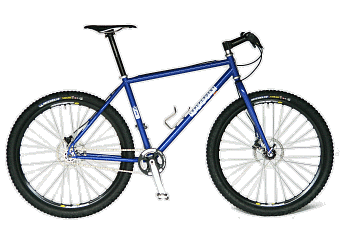 Each bike is lovingly crafted, one at a time for the individual. We take a few simple body measurements and using those along with a description of your needs and desires for the perfect ride - IF design a masterpiece in bicycle art. Tube sizes, angles, lengths and meticulous welding are all fused to create the sweetest, most comfortable, 'how did I ever get along without one of these' bikes you can imagine. There's plenty of easier, more affordable ways to get a new bike, but nothing even comes close to the perfect fit and beautiful construction of a bike from Independent Fabrication.
Frame from £1399, complete bike from (let's be sensible - does it really matter?)
Call or Mail for the ride of a lifetime...