Ti Deluxe
Like a Deluxe, only better. The Ti stands for titanium.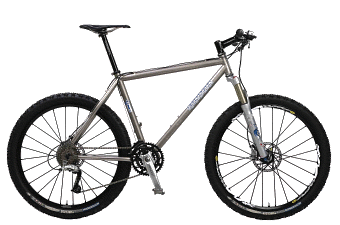 Double butted, shot peened and welded to perfection, the Ti Deluxe is whatever you want it to be. Smooth, fast, nimble, comfortable, all of them. IF will make you a bike for life, that fits you and your riding style perfectly. Tell us what fork you aim to use, give us some simple measurements and we'll do the rest - sit back and wait an average of just six weeks for the most wonderful thing you'll ever own, to arrive.
Framesstart at £2990 and it would be not just rude, but criminal, to skimp on the spec.
Call or Mail for the key to long lasting happiness...