Planet Cross
This is a rare treat - A full custom, rider specific, individually built, race winning Cyclocross bike. The Planet Cross has been used by world class racers to bring the sweet taste of victory, time and time again.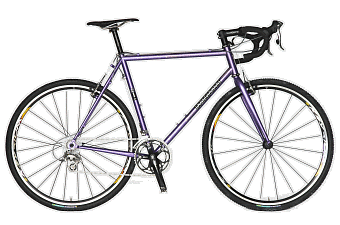 Each hand crafted beauty features size specific tubing to assure uniform ride quality throughout the range of sizes. All tubes are sealed except the seat tube to minimize corrosion and enhance frame longevity. It has a tall head tube for ample shoulder clearance when carrying and to keep the rider in a stable position when dropping down steep stuff. Comes with IF fork with extra tyre clearance for mud room. All frames have a gusset at the intersection of head tube and down tube for optimum strength. The bottom bracket shell is custom machined and relieved for strength and light weight. Even the dropouts are custom machined and heat treated for added strength.
The frame and forks start at £1700
Mail or call for more...
*Demo bike in store*